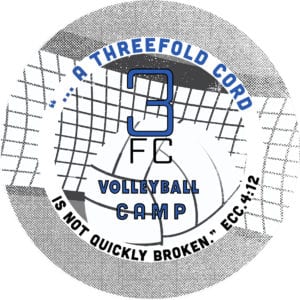 July 31 - August 3 ~ 9:00a - 5:00p
In order to be considered fully registered, you must fill out both forms (sign up and payment) to be able to attend the camp.
3FC-Ecc.4:12…. A "3 Fold Cord" is NOT quickly broken.
The goal and purpose of the 3FC Volleyball Camp is to train and instruct young ladies in the sport of volleyball.  We endeavor to demonstrate this in a godly environment that is conducive to their spiritual, physical and mental growth, on and off the court.
While volleyball is only temporal, we have first-hand experience and the upmost confidence that the character building process, such as loyalty to God and team, selflessness, physical endurance, and mental strength, is an invaluable necessity each player will be able to strive for and attain while pursuing a team sport. These ladies will be able to use this in every facet of their lives.
My name is Coach Jodie Osborne. I have been privileged to coach girls volleyball for 36 years this upcoming season. I coached at Calvary Academy in Butler, PA, for 30 years, and now I am leading into my 6th year here at Bible Baptist Christian Academy. The Lord has truly blessed me by allowing me to coach many young ladies who have had a "heart" to achieve with the utmost goal of representing their Lord well. They understood the importance of putting God first off the court, and as a result, it transferred to putting God first on the court.
Many of the girls I once coached became part of the team that helped to run the CA Volleyball Camp. We operated this camp for 10 years in Butler. We are now looking forward to 3FC Volleyball Camp's 6th year at BBCA.
I have been so blessed with the opportunity of coaching, alongside my daughter, Tawnie Kile. She played 6 years in High School for Calvary Academy, and 1 year at BC3. Tawnie has also been in coaching for over 15 years. She is a huge blessing to our volleyball program in the school and also is very intricate in operating the camp. She is very knowledgeable and current in the game of volleyball. She is also skilled in the demonstrating of techniques. God has truly gifted us with her expertise and sweet, godly spirit.
The other coaches have experience as players, and many of them have coached in various realms. These people have been chosen for their volleyball experience, but more importantly their spiritual and godly influences. We are honored they would be a part of our program.
Details:
July 31 - August 3, 2022 (Monday –Thursday)
$225.00 per athlete
9:00-5:00
Nutritious breakfast, lunch and dinner provided
Two daily snacks provided
Devotional challenges after breakfast (There is NO better way to build a strong athlete and team then to build it around the Word of God.)
Eligible ages are 4th-12th (may have already graduated)
Requirements:
Dress code consisting of lose, high cut, modest shirts that are long enough that no abdomen is shown when hitting and modest culottes, skort, or long, full basketball shorts that go at least to the middle of the knee.
Payment in full prior or upon arrival.
Available:
Hotel information available upon request.
Wednesday evening youth centered service
3FC Training:  
We will give individual and group guidance to make sure the techniques are being developed and done properly.
Drills - We will drill, putting them in game situations.
Skills - We will break down the techniques and mechanics.
Thrills - We will have exciting competitions during these periods.
3FC Technique Topics:
Each part of the game will be preformed. We will spend sections of time specifically addressing each important function of the game.
3FC Serve Options:
We will instruct and help build each girl with the serve that best suits them for where they are in age, strength and maturity.
Underhand
Overhand
Jump serves
3FC Strength:
We will instruct and demonstrate the importance of all of following three. Control in every area is the key to winning on the court and off.
Spiritual
Physical
Mental
During the skills, drills and thrills we will carefully evaluate their skill level and then endeavor to integrate them in their applicable class. As the week goes on we will know how to form the teams for the 3FC Volleyball Camp Tournament that is played on Thursday. There is no problem with a team or partial team that desires to play together during the tournament. We will be sensitive to the desires of the athletes that come together.
The beginning of the camp will be focused on individual defensive, setting, and offense technique and skill. Throughout the week, the 3FC coaches will have liberty to relocate each player should their level change. On Wednesday, teams will be formed and then pool play will take place. Thursday will be the day of the Tournament. Spectators are welcomed.
It is strongly suggested that players begin conditioning their bodies well before volleyball camp. There will be a segment of time blocked off after breakfast Monday, Tuesday and Wednesday for physical training and exercise. This will give them insight to the necessary steps to being fully prepared for their upcoming season. This is so they are able to get the most effective training from this week. Proverbs 10:17 "She girdeth her loins with strength, and strengthened her arms."
We hope that you will prayerfully consider 3FC Volleyball Camp for you and your team. Lord willing we will see you then.
Ecclesiastes 4:12b …a 3 Fold Cord is not quickly broken.
Because of Grace,
Jodie Osborne
724-584-8054
Please call, text or email with any questions.
In order to be considered fully registered, you must fill out both forms (sign up and payment) to be able to attend the camp.